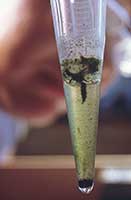 Sewage Cleanup
There are plenty of negative effects that can happen when you're exposed to raw sewage. As such, any biohazard sewage cleanup should not be performed by yourself, but left to the trained, certified professionals so that your personal safety is not compromised in any way. There are plenty of problems that can arise due to raw sewage exposure, and it must be noted that items that come into contact with raw sewage must be handled properly and disposed of safely.
Will The Affected Property Be Saved?
As much as possible, disposal is the most sanitary course of action when it comes to items that have fallen victim and covered in sewage. But for certain sentimental items that can still be saved, those items will undergo extensive sanitation and thorough deep-cleaning treatments before they can be used once again for your home or business. But as a general rule of hygiene, most items that are thoroughly contaminated will have to be removed from the premises, permanently.
Find Your Local "Restoration Renegades" Today
The Problematic Plagues
We resort to extreme precautions to ensure your absolute safety. Deadly pathogens, parasites and bacteria live in raw sewage, and when people are exposed to this sewage—mostly due to the improper cleaning of items, or by an unfortunate accident—they could potentially acquire any of these diseases:
Salmonella
Giardiasis
Tapeworm
E. Coli
Human Papilloma Virus
HIV/Aids
Norwalk Virus
To minimize the chances of getting these problematic plagues, sewage cleanup must be initiated as soon as possible. As soon as any homeowner realizes that there's a sewage leak and the floor or any place in the house is coming into contact with sewage, professional sewage damage specialists should be contacted. Some of the ways sewage can come into contact with your home range from toilet seepage, the blockage of a water or main pipe, corrosion in the pipes or there's something blocking the way of sewage, and worst of all—intense flooding can cause contaminated water to enter the area.
Sewage and Biohazard Cleanup
Pathogenic, viral and fungal contaminations hide in the damp, contaminated sewage water, and water losses are the most destructive of all damage that can be felt in a home. Bacterial control, soil removal, pumping out the sewage and odor control are methods of choice to get rid of it, and to ensure a clean, healthy home will be left behind. And this is where we come in handy.
Find the Perfect Restoration Company with Restoration Renegades
If you are looking for the best restoration companies around your area, contact Restoration Renegades, and we will send you the professionals you need! With the help of one of our most trusted contractors, your properties will be brought back to life in no time. All of our partners are capable of handling all types of cleaning and restoration services, so if you are interested, fill out the details in our contact page here.