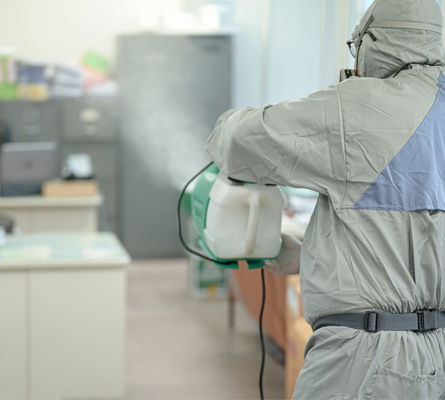 Commercial & Residential Disinfecting & Sanitizing Service
Almost every environment on the planet contains bacteria and microorganisms. Most are harmless to humans. But disease-causing organisms – called pathogens (viruses, bacteria, fungi, protozoa, and worms) – can be dangerous or even deadly. For example, coronavirus, which has taken thousands of lives a day.
Thus regularly disinfecting your home and facility properly is crucial to prevent the spread of colds, flu, and other sicknesses. A professional can help you get the job done easily.
Restoration Renegade brings you the best, licensed, insured, bonded, and local professional disinfecting contractors in your area with the click of a button. Our Renegade contractors are available 24/7 and can be at your property in no time.
To find your local Restoration Renegades contact us today at 817-203-2575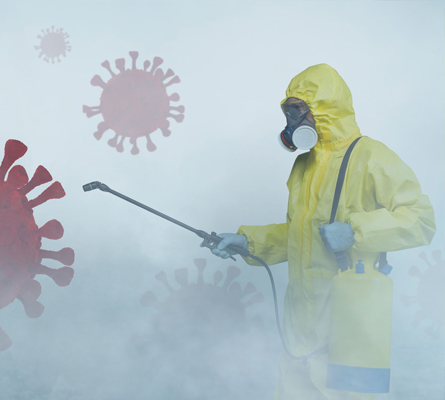 Coronavirus Disinfection & Sanitization Services
The U.S. Center for Disease Control highly recommends professionally disinfecting your business, home, or facility for any suspect of potential contamination. The recent outbreak of Coronavirus (COVID-19) has made routine cleaning and disinfecting the primary focus for both households and businesses. This type of virus spreads from person to person occurring most frequently among close contact. According to the CDC, cleaning surfaces and living spaces is a best practice method for preventing the spread of COVID-19.
Restoration Renegade Contractors are professional and well-tested Coronavirus disinfection and sanitization service providers. Our service providers offer full cleaning and disinfecting services for local businesses and homes. They can perform a proactive cleaning or full disinfection dependent upon whether COVID-19 has been confirmed at the location. They also provide decontamination and clean up services for businesses that are getting ready to reopen.
Find Your Local "Restoration Renegades" Today
Other Harmful Microorganisms We Disinfect
Our restoration companies also disinfect cold, flu, E. coli, Salmonella, Staph, Norovirus, Herpes, Hepatitis B, mold/mildew, odor, or other serious contagions.
Types of Commercial/Residential Properties Renegades Disinfect
Our Renegades provide treatments for all kinds of property:
Office Buildings
Medical Facilities
Multi-Housing Common Areas
Schools
Senior Living
Athletic Facilities/Gyms
Daycare Centers
Food Service Building
Residential Homes
Apartment Complexes
Townhomes
Restaurants
Bars
Public Libraries
Manufacturing Facilities
Retail Stores
Spas/Nail Salons/Hair Salons
Churches
Car Dealerships
Any Commercial Building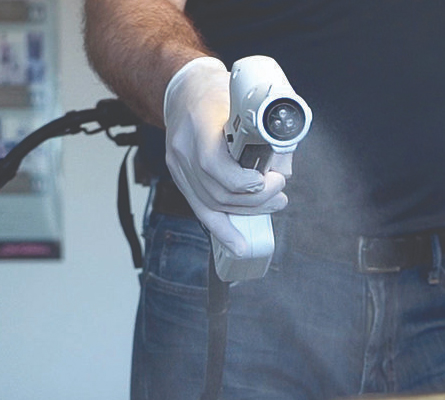 Products Used for Disinfecting
EPA Registered: Our contractors use only EPA-registered virucides for cleaning and disinfecting services.
Electrostatic Disinfectant Treatment: Electrostatic disinfectants that are used clean impossible and hard-to-reach places often missed during a general cleaning process. The treatment spreads long-lasting disinfectant applications. It eradicating germs, viruses, and bacteria – all while boosting prevention against mold and mildew (for mold remediation solution click here). The solution is ideal for sensitive surfaces such as equipment and electronics. Our contractors also use fogging, quaternary solutions, hydroxyl generators, etc. for disinfecting depending on the facility and the application.
Disinfecting Team: Besides these, our contractors also use detailed disinfection crews & teams that hand wipes & disinfect all areas.
Why Choose Restoration Renegade Disinfecting Service Providers
Disinfecting solutions provided by our contractors have the following features:
Safe & Non-Toxic
Environmentally Friendly
Affordable
Custome schemes: one-time-service, special occasion, etc.
Green Seal Certified
Wool Safe Certified
Certified Organic
Safe For Children & Pets Immediately Upon Application
FDA Approved
EPA Registered
Salt-Free & Non-Corrosive
Provide 24/7 service
Use state-of-the-art equipment which ensures proper disinfection with the highest level of cleaning
Offer free on-spot assessment and quotes prior to undergoing any repair work
Besides disinfection, our contractors also provide other kinds of restoration and clean up services such as storm damage, water damage, contents restoration, mold remediation, biohazard cleanup, and much more.
So Call Us at 817-203-2575 or contact here to schedule a disinfecting service today!