Jeremy the Adventurer
Behind the scenes of disaster
restoration to see how it is
brought all back to life.
Featured Videos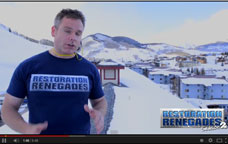 Apartment Building Flooded
: The RR team goes to Crested Butte, CO and meets with KW Restoration to restore an apartment building which had been flooded.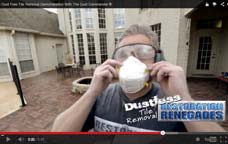 Dust Free Tile Removal
: In this episode, Jeremy and the crew go to Paris, TX to discover virtually dust free tile removal service called Dust Commander.
Water Damaged Home Restored
: In this episode, Jeremy visits a home in Dallas, TX which was flooded when the homeowners were in a vacation.
About Restoration Renegades
Restoration Renegades is a network of restoration contractors who specialize in disaster restoration services. Jeremy and his crew travel the country filming videos of jobs performed by Restoration Renegades contractors for educational purposes. We make restoration fun and entertaining.

Water Damage Restoration
Plumbing leaks, water heater overflow, natural flooding or even toilet backup can cause major water damage to your home or business. Working through the emotional and economic aftermath can be just as traumatic. Restoration Renegade contractors can help!

Fire Damage Restoration
Fire damage is an obvious disaster. Even small fire can cause heavy damage as the smoke travels through vents and air leaks into non-fire damaged area of the house or building. On top of that, fire fighters hose the dwelling down with truck full of water...
Mold Remdiation
Mold is a fungus which grows on organic matter in moist conditions. Mold exposure in your home or business is a major health concern. You can actually prevent mold before it happens. Restoration Renegades are certified mold remediators.