JEREMY THE ADVENTURER
Behind the scenes of disaster restoration to see how it is brought all back to life.
Restoration Renegades Featured Episodes on YouTube
In this episode, we talk about stopping a hot water heater from leaking in an emergency situation.
In this episode, we learn some basic tips on how to prevent pipes from freezing in the winter months. Our experts from Dalworth Restoration gives us some great tips on this episode.
In this video our host Jeremy asks local experts from Dalworth Restoration about how to find a leak
Find Your Local "Restoration Renegades" Today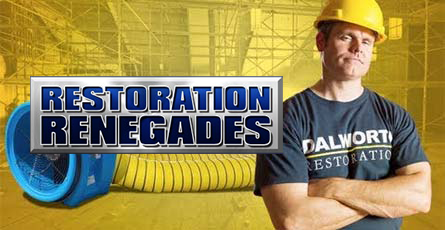 About Restoration Renegades
Restoration Renegades is a network of restoration contractors who specialize in disaster restoration services. Jeremy and his crew travel the country filming videos of jobs performed by Restoration Renegades contractors for educational purposes. We make restoration fun and entertaining.
Water Damage Restoration
Plumbing leaks, water heater overflow, natural flooding or even toilet backup can cause major water damage to your home or business. Working through the emotional and economic aftermath can be just as traumatic. Restoration Renegade contractors can help!
Fire Damage Restoration
Fire damage is an obvious disaster. Even small fire can cause heavy damage as the smoke travels through vents and air leaks into non-fire damaged area of the house or building. On top of that, fire fighters hose the dwelling down with truck full of water...
Mold Remediation
Mold is a fungus which grows on organic matter in moist conditions. Mold exposure in your home or business is a major health concern. You can actually prevent mold before it happens. Restoration Renegades are certified mold remediators.