Restoration for Structural Fires
What can be more devastating than a fire breakout? Even a small fire can leave a huge impact on the structure and people. The aftermath of a structural fire is not easy but Restoration Renegades it can be. We can help you in finding the correct contractor for effective structural fire restoration.
We are acquainted with a large network of contractors that are the best in the industry. Numerous clients have found their desired contractor through us and they vouch for the reliability. Whether it's a structural fire or any other fire damage, our contractors provide restoration for all. Contact us at 817-203-2575 and learn more.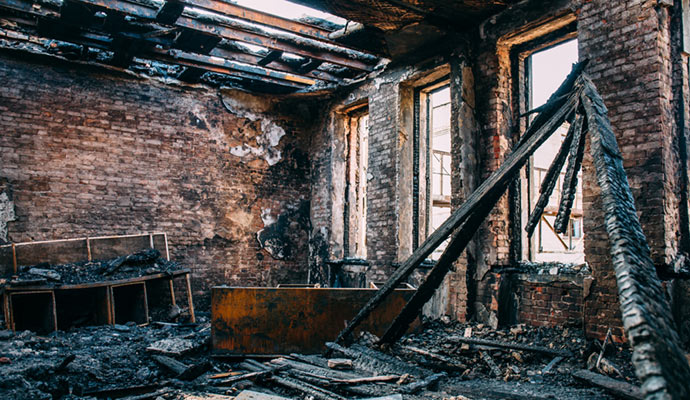 Immediate Steps After a Structural Fire
Experiencing a fire breakout is an overwhelming experience. However, to prevent further damage you need to calm down a bit and take some actions.
The most important thing is the safety of yourself and others. Evacuate the building and only re-enter when authorities confirm it's safe to do so.
Next is to notify the insurance company to initiate the claim process.
After the insurance company guides you through the documentation process, it's time to document the damage.
Restoration is inevitable in this situation. That's why you need to call an expert restoration company.
Even after understanding all the aspects that need to be handled after the fire damage, it is not possible to fully address all the issues by yourself. This is where an expert restoration comes in. Talking about restoration companies, Restoration Renegades is sourced with reliable restoration companies in your locality. They are equipped with modern technologies and work with smoke, soot, or any water damage issues related to the fire.
Find Your Local "Restoration Renegades" Today
From Fire Devastation to Renewal | Restoration Renegades
Restoration Renegades' network of restoration contractors works relentlessly to restore your property back to its pre-loss state. So that you can get back to normal daily life. Furthermore, they would also help with the insurance claiming process. Call 817-203-2575 or click on this link to find your local restoration partner.