Emergency Board Up Services 
A single fire accident can greatly damage your property:
Broken windows
Holes in walls 
Roof damage  
Water damage (from the water used to put out the fire)
and other property damage. 
These damages make your home/business vulnerable to break-ins, vandalism, or further damage, whether from the elements or from lack of structural security. So the most important thing to do immediately after putting off the fire is to call a restoration company for emergency board-up service. 
Restoration Renegades is a network of leading restoration contractors from all over the country. Our service providers are local, licensed, insured, bonded, professional restoration companies who provide all kinds of disaster restoration services, including emergency board up. They will board up and seal off any missing walls, doors, or windows with plywood and cover damaged roofs with tarps.
Our renegades have expert technicians who are available 24/7 for emergency services. You just make a call and the team will arrive promptly, assess the situation, and develop a plan for the board-up services. You can also get free consultation and estimates. 
Search for, and find, your preferred company now, based on zip code or "select service." Through Restoration Renegades, you will find the right restoration company for you!
Benefits of Emergency Board-Up Services by Restoration Renegades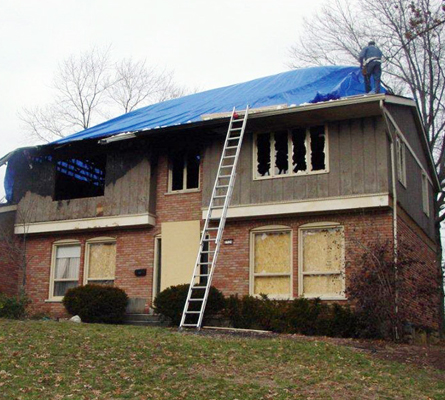 Loss of insurance coverage
Your insurance carrier most of the time requires board-up services following a disaster in order to be eligible for homeowner's insurance coverage for damages. 
Risk of further damage
Holes in the walls and roof can allow additional damaging elements inside your home, from wind and water to animal and human invaders, further increasing your repair bill.
Additional property loss
Unprotected or uncovered fire damaged property will attract vandals, thieves, and other unauthorized and dangerous people/groups. This can pose many threats: 
They could damage or remove anything
Can gain access to your personal information 
Can destroy or steal your property: from electronics, appliances, and HVAC to plumbing pipes, fixtures, and more 
Liability
If someone enters your home and gets injured, you could be liable for their injuries.
Find Your Local "Restoration Renegades" Today
Choose Restoration Renegades' Contractors for Emergency Board Up
We provide only those contractors who are licensed, bonded, local, experienced, and are professionals thus ensuring reliability and quality service.
We have contractors from all over the country. So it doesn't matter where you are, we can find a service provider for you. 
Our contractors have technicians who are highly trained and certified. 
Our prestigious companies work well with all major insurance companies, which facilitates the paperwork process to get started renewing or reconstructing your home, or place of business, back to its superior form.
Our contractors provide all kinds of restoration services including inspection, free consultation, installation, repair, replacement, maintenance, and more. 
Also services areas covered include smoke odor removal, soot restoration, duct system smoke removal, mold remediation, and many more. 
Our contractors provide service for both residential and commercial properties.
So for every restoration need that you may have, trust in the experience of the Restoration Renegades network to do the job right. Search for, and find, your preferred company now, based on zip code or "select service." Through Restoration Renegades, you will find the right company for you!
To learn more about us and how to become a Renegade, contact us online or give us a call at 817-203-2575.