Structural Mold Remediation for Mold-Infested Properties
Mold is a troublesome microorganism that may damage wood, drywall, fiberglass, insulation, and other organic material found in your home or building. It can grow in your attic, basement, crawl space, air ducts, HVAC system, and simply anywhere moisture is present. Similarly, when mold impacts the structural building blocks of your property, it may significantly affect the structural integrity as well. Furthermore, molds can spread very fast from one surface to another click here to learn more. To avoid additional damage & remove mold from your property, call in your local professionals via Restoration Renegades.
We are a fully insured & licensed network of restoration companies that specialize in mold damage, water damage, fire damage, storm damage, content restoration, and more. Our certified mold contractors can remediate mold problems, and restore structural mold damage too. Need a mold infestation taken care of? Simply call us at 817-203-2575 or click here to request a free estimate.
How to Avoid Mold Damage in the First Place
Mold grows in the presence of moisture, and water. This could be provided by major storm damage, water damage, pipe leaks, roof leaks & more. Whenever you face water damage in your home, it is best to call your local specialists for water extraction and structural drying services. By removing the moisture at the beginning you may avoid mold growth & the damage that comes along with it.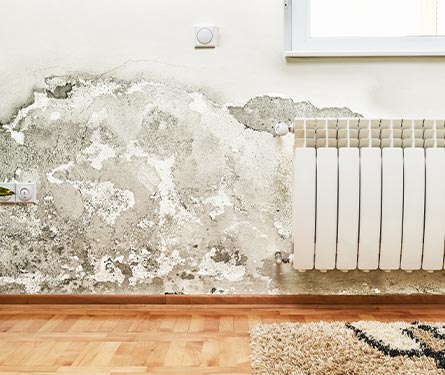 Mold Affects You & Your Family's Health
The pesky thing about mold is that it doesn't only create problems for the affected areas, but its surroundings too. Mold releases thousands of tiny mold spores into the indoor air, which the room's occupants breathe in. Exposure to moldy conditions may cause nausea, and breathing difficulties, and is especially harmful to asthma & lung patients.
Molds can pose great health risks for anyone who spends a long period of time in moldy environments. The health issues may include:
High fever
Sore eyes
Skin rash
Throat irritation
Allergic reactions
Wheezing
Comprehensive Mold Testing & Mold Removal
Your local Restoration Renegades are equipped with the right resources to thoroughly test for mold-infested areas on your property. We inspect every corner, and every possible place mold could be growing. We analyze the severity of the mold & follow careful procedures to remove it from your indoors. We also perform an indoor air quality test to check the level of mold spores in the air and work towards reducing it to a normal level.
Call us NOW at 817-203-2575 for mold remediation or water damage restoration services.
Find Your Local "Restoration Renegades" Today