Water Categorization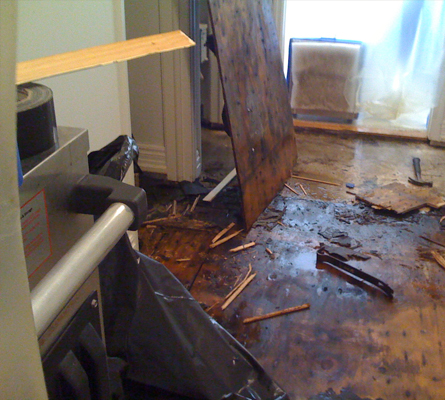 Water damage is something all homeowners are ALWAYS wary about. This is because:
Even a very little water leak for a very brief duration can cause serious risks (for example, mold grows within 24 to 48 hours).
Can pose many and serious health hazards such as asthma, lung disease, etc.
Many times it is not visible or detectable until it's too late.
There are many different categories of water and class of water damage. 
And many more.
That is why professional restoration contractors such as the ones in our network follow an extensive process of restoration to help in proper identification, diagnosis, and treatment of such damages in households. Such as:
Water Categorization
Structural and Contents Drying and more.
Search for, and find, your preferred restoration contractor now, based on zip code or "select service." Through Restoration Renegades, you will find the right company for you!
What is the Purpose of Water Categorization?
Guidelines: The Institute of International Cleaning and Restoration Certification (IICRC) created guidelines that classify the level of contamination of the water and the severity of the damage. By using these guidelines, professionals are able to assess exactly how much damage is done and their plan of action. 
Early Warning & Diagnosis: Knowing the category of water reveals information on the possible health hazards and the safety precautions that must be taken. 
Effectiveness: Ensures that your home is effectively restored into a safe and healthy place for you and your family.
Find Your Local "Restoration Renegades" Today
Types of Water Categories
Water Category 1: Clean Water
Water in this category comes from a clean source
It is not contaminated and does not pose a threat to people if they get exposed to it, whether through the skin, by ingesting it or inhaling it. 
Examples: Water from a sink or bathtub overflow, broken water supply line, melting ice or snow, falling rainwater, and toilet supply tank overflow or leak. 
Category 1 is deemed safe, but it takes only 48 hours for it to become category 2.
Water Category 2: Grey Water
This category of water contains significant contamination (bacteria, mold, and/or chemicals) that can potentially cause discomfort or illness to individuals who come into contact with it or ingest it. 
Examples: Dirty water from your dishwasher or washing machine; leaks from water beds, toilet overflow with just urine, broken aquariums, and seepage due to hydrostatic pressure. 
A Category 2 water can also easily become a Category 3 if it doesn't get treated for two days or more. 
Category 3: Black Water
This type of water contains pathogens, toxins, and other harmful agents that can cause serious illness or even death. 
Blackwater is grossly unsanitary. 
Has the possibility of organisms and chemicals in overfilled septic and sewer systems, decaying ground debris, animal feces, and fertilizers. 
Example: Blackwater occurs from sewage backup, toilet backflows containing feces, seawater, and rising floodwater. 
Reasons to Choose Restoration Renegades Contractors
We are a network of licensed, insured professional, local restoration contractors who provide all kinds of restoration services including water damage such as water heater overflow, storm flood damage, frozen pipes, burst pipe damage, carpet water damage, and more.
Restoration Renegades contractors have years of experience in performing water damage control for all levels of damage.
Equipped with field-proven gear and a wealth of experience, our renegades are ready to take on any installation, repair, replacement, or cleanup task that you may have for us. Our goal is to get your normal life back on track. We're up for it 24 hours a day, 365 days a year.
So for every restoration need that you may have, trust in the experience of the Restoration Renegades network to do the job right. Search for, and find, your preferred company now, based on zip code or "select service." Through Restoration Renegades, you will find the right company for you!
To learn more about our service contact us at 817-203-2575 or contact us online.