Contents Restoration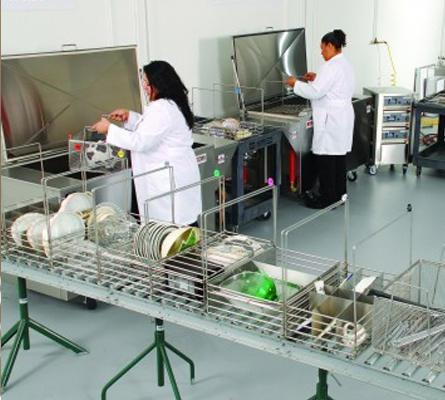 Whenever you suffer any type of loss, you will have two basic lines of demarcation in the claims process. One is the structure, which is your building, or home; and it will be covered under different parts of your insurance policy. The other part is contents. In a residential setting, after a fire or flood, the loss of precious personal possessions hits hard.
Choose a company that will work with you to weigh sentimental value with insurance values. We want you to get the best results possible. Once you have sifted through your personal effects and made the difficult decisions about sentimental items, your chosen restoration company should work with you to assist in the more practical decisions of what items are better replaced and those that are more cost-effective to recover and restore.
Your restoration team may transfer your valuables to a state of the art, climate controlled content restoration facility to be salvaged and restored. The team may be able to store your personal belongings until your restoration project is complete.
Working with you and your insurance claims adjuster, you will be able to make good, solid decisions. This is the case in any property loss, commercial or residential. These decisions must be made and, if made properly, you will see that your insurance coverage is usually adequate to meet your needs. Poor decisions can have a negative impact on your overall claim. Choosing one of our trusted companies to work on your behalf will empower you to avoid mistakes.
Find Your Local "Restoration Renegades" Today
Contents Restoration Facility
Your contents may be taken by the team to a climate controlled, secure storage and contents restoration facility for processing and safekeeping while decisions are made. Once cleaning begins, your possessions can be restored in the content processing facility.
Of particular concern is the effect of corrosion on any metal object. This usually includes electronic items and precision equipment. But what about hand tools? Your chosen restoration company may have the ability to assess corrosion, remove it and even restore appearance to the item. In the case of electronics, the team should be able to assist you in reinstating original manufacturer warranties.
Considering the cost effectiveness of the item is only one part of your decision-making process. In a commercial claim, you must also consider the implications of business interruption. The loss of certain business functions, such as communications, production or access to critical business information, may have a huge impact on your company. Your restoration team should work with you to make good decisions throughout the process.
Consider this partial list of the many items that a strong restoration team can recover for your home or company:
Furniture of all types, including antiques, custom and manufactured items
Artwork, accents, ceramics, oil on canvas, wood, stone and metal sculpture
Dishes, pots & pans, crystal, glassware, silverware and similar valuables
Personal papers, documents and books
Recovery of x-ray media, microfilm and fiche, photographs and all photographic media
Books, bound volumes and manuscripts
Magnetic media to include all forms of tape, diskettes and cassettes
Optical media, CDs, DVDs
All forms of textiles, clothing, drapes and upholstery
Precision equipment
Computers and all other electronics, consumer items and professional
Vacuum freeze drying and desiccant drying of these materials
Comprehensive Corrosion Control Services
Search for, and find, your preferred company now, based on zip code or "select service." Through Restoration Renegades, you will find the right company for you!