Hail Damaged Roof, Siding, Window, Gutter Repair Services
Every year US homes and businesses endure millions of dollars of loss and property damage due to hail related damages. These include roof, window, siding, gutter, wall damage, and more. States like Texas and Colorado face some of the largest and worst recorded hailstones and hailstorms. To repair or prevent further damage timely and professional inspection and action are crucial.
We can connect you with the best licensed, insured, bonded, and local restoration company in your zip code area. Restoration Renegades is a network of professional restoration contractors who provide all kinds of hail damage services at affordable rates all over the country.
So call us today at 817-203-2575 to get free estimates and inspection.
Hail Damaged Roofing
Your roof is the most affected part of your home during a hail storm. This is because it the largest exposed area of your house thus every part of it is vulnerable to hail damage:
Granule loss: When a shingle loses granules, its asphalt coating is exposed to the elements, and this leads to accelerated aging.
Cracks in the shingles: Cracked shingles cannot effectively protect your roof from the weather and can leave bare spots in it.
Exposed & fractured fiberglass mat: Hail can shatter the roof shingles' surfacing, causing it to break away from the fiberglass mat underneath. Fractured fiberglass mats can result in tears and cracks from a point of hail impact. This can be slightly harder to detect and usually requires a trained eye.
Weakened self-seal strip: Hails can weaken the seal integrity of your shingles which can cause a shingle to blow off and can leave your roof exposed to the elements. This can lead to roof leaks, and it can cause other shingles around it to tear.
Find Your Local "Restoration Renegades" Today
Hail Damaged Siding
Unlike damage to the roof, hail damage to siding may require immediate attention. The effect of a hail storm depends on the type and age of sliding being used. Hail can cause many different issues that need to be addressed including:
Dents
Cracks
Holes in your siding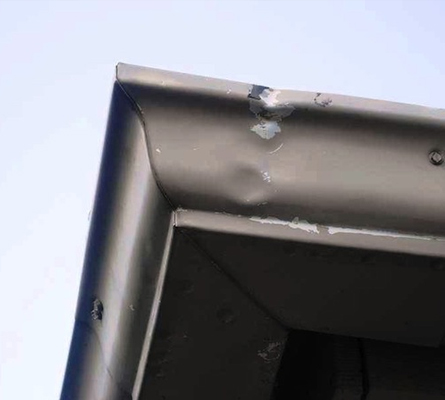 Other Hail Damages
A driving hailstorm can cause damage to your air conditioning unit. Large pieces of hail can harm the fins on your unit, which in turn restricts airflow and impedes function. Chimneys and flue vents are also susceptible to damage from hail storms.
Hail Damaged Gutter
Hail dents in your gutters can cause leaks, pooling water, damaged downspouts and outlets, broken gutter hangers, and many other water damage problems that can disrupt the way that water is directed away from your home. This is why it is very important to call in a local gutter expert after a hail storm so that these issues can be avoided before the next rainfall.
Who We Are
Restoration Renegades is a platform that brings together the best full-service cleaning, restoration, and mold remediation service providers of the nation under one roof serving thousands of clients nationwide. Our contractors have the knowledge, equipment, and expertise to handle any hail damaged situation no matter how big or small. They have a knack for finding the best, most suitable, and affordable hail damage solutions to restore your roof, siding, window, to its previous charm and functionality.
Why Choose Our Contractors To Install/Repair Your Hailed Damaged Home/Office
Our contractors have trained and certified technicians and crew members who are well experienced to install, repair, replace all kinds of roofing impairments whether it is from hail, wind, or flood. They have solutions for all kinds of hail-damaged slidings: vinyl, wood, metal, etc. Our variety of sliding options insures you can choose the most matching sliding design to your existing sliding. Their inspection team runs a thorough investigation and can tell you accurately if a safe repair is possible instead of full window replacement saving you time and money.
Our Renegades Contractors also provide free insurance guides and assistance and 24/7 service.
Call us today at 817-203-2575 to learn more about our services. If you are looking for a specific restoration company in your zip code or one that provides a specific service, then please fill out this form.