Fire Prevention in Your Local Area
In the event of a fire in your home, you may only have two minutes to get out! Early warning from a working smoke alarm, combined with a regularly trained fire escape plan, can save lives. If you have a fire prevention plan in your home, you can also minimize the damage.
The first step in developing a fire prevention plan is to identify potential fire threats. Fires can't start until there's a source of heat and something to burn. Anything can catch fire if there's enough heat present. Once you've identified the fire threats in your building, it's time to train your personnel. Make sure tools such as fire extinguishers, fire alarms, sprinkler systems, monitors are installed and, everyone knows how to recognize a fire hazard and what to do if a fire breaks out.
Regularly-scheduled fire drills ensure that everyone knows how to get out of a burning building. Also, make sure everyone knows where they should go once they're outdoors.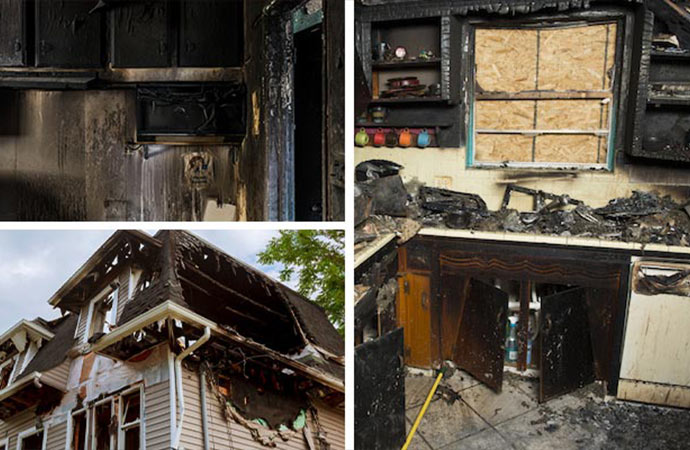 What To Do If A Fire Breaks Out?
When it comes to fire disasters there's no telling when and how it occurs and sometimes even with safety measures misfortunes are inevitable. When such a situation happens do not panic. If the fire breakout is minor enough to put out with an extinguisher then the case is solved however in case of a big fire outbreak leave the premises ASAP and call your local emergency phone number.
After, the fire is extinguished comes the restoration of the damages. This is where Restoration Renegades can play the most vital role. We are the platform to count on whenever your property faces fire damage. We have a superior network of fire damage restoration professionals to help bring their highly-trained technicians and services to you.
Find Your Local "Restoration Renegades" Today
Looking for Fire Damage Experts? Find Your Local Contractor Now!
At Restoration Renegades, our enlisted professionals are always ready to help you and put your safety, well-being, and satisfaction first after any disaster or damage. Count on us nationwide for fire damage restoration, or any other fire damage issue that requires a local restoration contractor in your area. Call us at 817-203-2575 or visit us online.