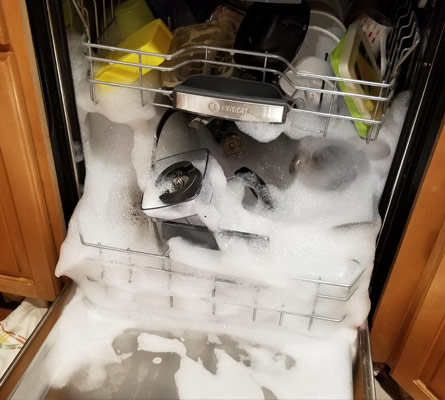 Dishwasher Overflow Service
Dishwasher overflows can occur for many reasons - too much detergent, door gasket failing, defective water inlet valve, and many more. Whatever the reason may be the result is not desirable. Starting from slow, long-term leakage to mold growth and significant water damage. So it's important that your dishwasher gets regular maintenance services and if an overflow does occur, professionals are called immediately to prevent costly remediation.
Restoration Renegades is a network of restoration contractors from all 50 states who specialize in disaster restoration (both man-made and natural) and clean up services including dishwasher overflow, washing machine overflow, toilet overflow cleanup, water heater overflow, frozen pipes, carpet water damage, and other water damages.
Equipped with field-proven gear and a wealth of experience, our contractors are ready to take on any dishwasher overflow challenges that you may have for us. Our goal is to get your normal life back on track and for that, we're up for it 24 hours a day, 365 days a year.
So call us today at 817-203-2575 for a free consultation.
Common Causes of Dishwasher Overflow
Too much detergent
Over-sudsing a consumer dishwasher can fill the unit to a level where leakage of sudsy water out the front door is likely. Consumers often compensate for cheap detergent brands by adding an excess amount of cheap detergent that can lead to high sudsing and overflow on your kitchen floor.
Door gasket failing
The rubber gasket sealing your dishwasher door is subject to wear and tear. Over time, it may lose its elasticity to seal properly and/or develop cracks or splits that allow leakage.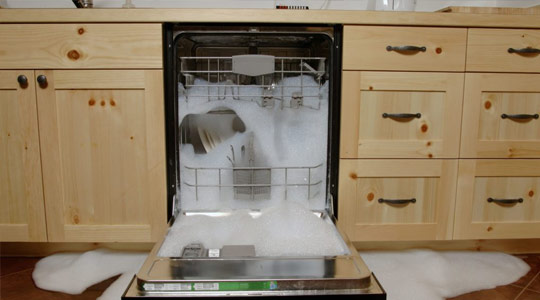 Defective water inlet valve
A faulty valve, usually the result of defective solenoids, may not allow any water into the unit if it fails in the closed mode. Alternatively, it may stick open and allow too much water, resulting in overflow.
Faulty float switch or sensor
The float switch or sensor detects the level of water in the unit and shuts off the flow to prevent overflow. If the float switch/sensor fails, the water level in the unit will continue to rise and eventually cause flooding.
Find Your Local "Restoration Renegades" Today
Why Choose Restoration Renegades For Dishwasher Overflow Service
Our contractors provide all kinds of restoration services including a free estimate, inspection, consultation, installation, repair, replacement, maintenance, and more.
We provide only those contractors who are licensed, bonded, local, experienced, and are professionals thus ensuring reliability and quality service.
We have contractors from all over the country. So it doesn't matter where you are, we can find a service provider for you.
Our contractors have technicians who are highly trained and certified.
Our prestigious companies work well with all major insurance companies, which facilitates the paperwork process to get started renewing or reconstructing your home, or place of business, back to its superior form.
Also services areas covered include fire damage, water damage, mold remediation, content restoration, and all other restoration sectors.
Our contractors provide service for both residential and commercial properties.
For every restoration need that you may have, trust in the experience of the Restoration Renegades network to do the job right. Search for, and find, your preferred company now, based on zip code or "select service." Through Restoration Renegades, you will find the right company for you!