Mold From Ceiling Water Leaks | Restoration Renegades
Restoration Renegades and its network of contractors provide thorough mold inspection and remediation after ceiling water leaks in your local area. If you suspect you have a ceiling water leak, and see or suspect mold growth, contact us immediately to have your home inspected by our experienced professionals. They will be able to find the source of your ceiling leak, assess any damage, and then test or inspect for necessary mold remediation.
Signs of Mold From Ceiling Water Leaks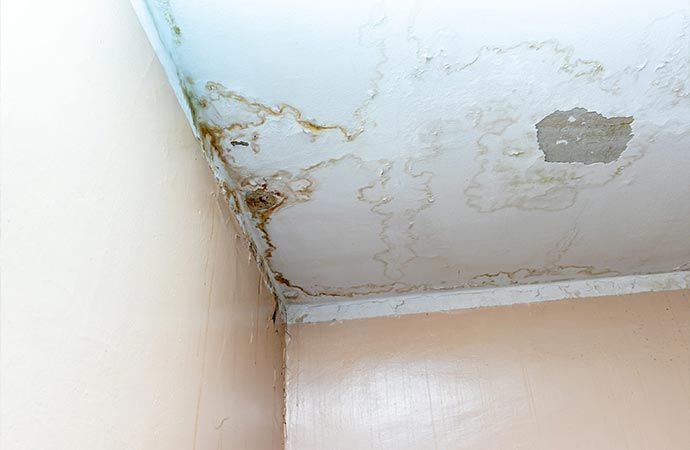 Poorly insulated ceilings are a common factor in older homes and can lead to mold growth. Some of the signs of mold from ceiling water leaks include:
Stains on the ceilings
Brown or gray ceiling discoloration
Visible mold growth (usually dark green, brown, or black)
A musty odor was near the area where the roof leaked
Mold growth is confined to a single region
Mold tends to grow in dark and damp areas, and you may not be able to see or access areas with mold growth. In these cases, Restoration Renegades can conduct a free mold inspection. We'll check for mold growth signs and utilize advanced imaging and testing equipment to determine if you have a mold problem.
Find Your Local "Restoration Renegades" Today
Trust Restoration Renegades For Mold From Ceiling Water Leaks
Restoration Renegades is a network of restoration contractors who specialize in disaster restoration services such as water damage, fire damage, mold remediation, reconstruction, insurance claims and more. Our teams of professionals are here to help homeowners and business owners understand all the options and restore the pieces back together, as fast as possible.
We work with the following home improvement network partners:
Foundation Repair Pros: This network helps homeowners connect with foundation repair contractors.
Rug Rangers: Many restoration companies offer carpet cleaning and rug cleaning services and Rug Rangers helps homeowners find the best.
Basement Pros: This network focuses on basement waterproofing, basement finishing and crawl space repair contractors.
Call us today at 817-203-2575 or contact us to learn more and arrange a consultation.