Storm Damage Insurance Claim Assistance | Restoration Renegades
Many homeowners find dealing with insurance claims to be one of the most stressful aspects of recovering from storm damage. Restoration Renegades makes it easier by assisting with storm damage insurance claims. Our contractors make sure that your claim is properly valued so that all damage can be repaired.
We know the challenges of insurance claims, which is why we offer free insurance claim assistance to every client. When you choose us to be your restoration service provider, we make it a point to help you fill up your claim forms correctly. We'll also help you document the disaster and the damages that it caused to show your insurance company that your claim is legitimate and accurate.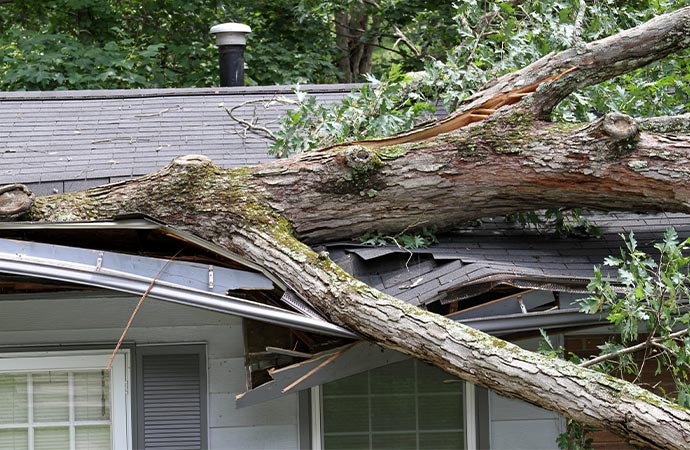 Why Restoration Renegades For Storm Damage Insurance Claim Assistance in Your Local Area?
Not all damage can be seen from the ground. That's why it's a good idea to have a professional inspection following any significant weather event. Unidentified damage could lead to further issues, such as leaks, mold, and rot. From our experience, the more time that goes by, the more difficult it becomes to link damage to the storm, which means it may not be covered by insurance.
By ensuring that all storm-related issues are included in your claim, Restoration Renegades will make sure this doesn't happen to you.
Find Your Local "Restoration Renegades" Today
Trust Restoration Renegades For Storm Damage Claim Assistance in Your Area
Restoration Renegades is a network of contractors who specialize in disaster restoration services such as water damage, fire damage, mold remediation, reconstruction, storm damage insurance claims, and more. Our professionals and network of local contractors are here to help homeowners and business owners understand all the options and restore the pieces back together, as fast as possible.
Some of our home improvement network partners:
Foundation Repair Pros: This network helps homeowners connect with foundation repair contractors.
Rug Rangers: Many restoration companies offer carpet cleaning and rug cleaning services and Rug Rangers helps homeowners find the best.
Basement Pros: This network focuses on basement waterproofing, basement finishing and crawl space repair contractors.
Call us today at 817-203-2575 or contact us to learn more and arrange a consultation.