Wind Damaged Roof, Siding, and Windows Repair
One common element of flooding, tornado, hurricane, tsunami, or any other kind of storm or other kinds of natural disaster is a huge gush of strong wind. When the wind of 200/300 mph speed travels over your home it can rip trees from their roots, tear shingles off the roof, break windows, crack siding and gutters and cause many other damages. Immediate repair actions become crucial to minimize further damage from occurring.
Restoration Renegades is the network where you can find the best of the best restoration companies from all over the nation. Our contractors provide all kinds of emergency disaster and storm restoration services, including wind damaged property debris cleanup, inspection, repair, replacement, and many more.
So if you are looking for a professional, reliable restoration service provider, just enter your zip code and the type of restoration service you need, and rest assured you can trust our referral.
Wind Damaged Roof
Signs of wind damage on a roof include loose or missing shingles, chimney issues, curling or peeling shingles, granule loss, damaged soffit or fascia, and indoor leaks. High winds can also cause tree branches to fall and damage a roof.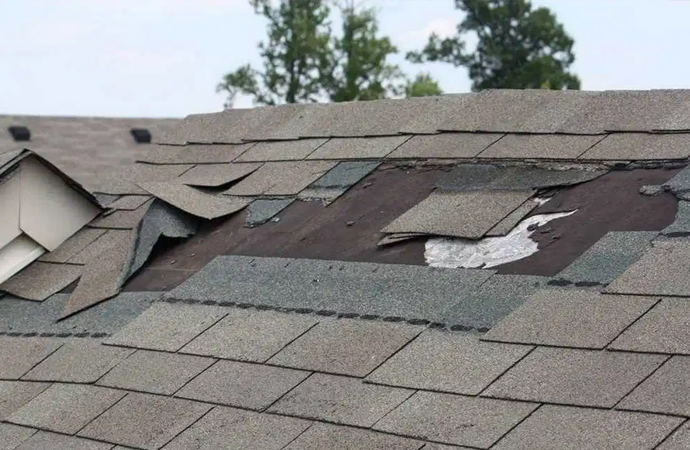 Wind Damaged Siding
The siding on your home or building is made to withstand tough weather conditions. However, that doesn't mean they are completely immune to damage. A single severe weather event, or the cumulative effect of many years of exposure to the elements, can cause enough damage that the siding needs to be replaced.
Wind Damaged Windows
High wind speeds have the potential to knock over trees, damaged roofs, and in severe cases even shatter unsecured windows. Some common damage caused by windstorm includes:
Shattered or broken panes
Cracks, holes, or dents in glass
Damaged or dented frames
Chipped or cracked paint, siding, or wood
Why Choose Restoration Renegades' Contractors
Contractors in our network are licensed, bonded, local, experienced and are professional thus ensuring reliability and quality service.
We have contractors from all over the country. So it doesn't matter where you are, we can find a service provider for you.
All our contractors' crew members will come to your premises wearing and carrying full COVID 19/Coronavirus preventive suits and equipment.
Can provide all kinds of storm damage restoration services.
Can restore any kinds of roofs, windows, sidings, fences, and other storms/wind damaged parts of your home.
Provide all kinds of storm damage restoration services:
Provide both commercial and residential services.
IICRC Certified Technicians.
State-Of-The-Art Equipment.
We also provide other restoration services such as fire damage, water damage, cleaning services, and many more. So to find the best restoration service provider that meets your categories, just type in your zip code or "select service" in this link. To learn more about our services or how to join our team click here or you can also contact us at 817-203-2575 or contact us online.