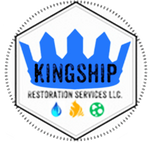 Kingship Restoration Services LLC
24/7 Water Damage Cleanup & Removal
Water damage from a leaking roof, a burst pipe, or an overflowing tub can cause a lot of damage to a home over a very short period of time. When this happens, you will need a water damage restoration specialist to give you the proper water damage services. Our Phoenix water damage company maintains solid working relationships with major insurance companies and their adjusters to assist property owners throughout the claims process
Sewage Backup Cleanup
Immediate sewage cleanup is essential in keeping everyone involved safe when dealing with sewage damage in Phoenix. Because sewage removal is a dangerous process due to the toxic microbes that may be present in raw sewage, it's essential to have a sewage damage specialist with the right equipment that will put safety first during the sewage cleanup process.
Mold Removal

& Remediation

Mold damage restoration is a two-part process that involves mold removal and mold remediation. We take all the necessary steps to ensure that your structure is mold-free and safe. We are licensed and certified to deal with hazardous materials, and we will keep the mold from spreading to other areas. We have seen the havoc that mold can unleash on homes, businesses, and individual health. We've also been helping customers throughout the region to rid their property mold and get their properties mold-free.
Disinfection

Services

Fast, Affordable, Biological Decontamination Service Experts. We specialize in the whole space disinfection of office buildings, gyms, clinics, warehouses, etc. Don't let a virus slow down your business. Call today to discuss service options and response times to meet your needs.
---
Services Provided by Kingship Restoration Services LLC
Bio Hazzard Cleanup
Content Cleaning
Mold Remediation
Water Damage Restoration
---