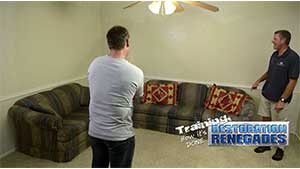 What it Takes to Train Restoration Renegades Contractors
In this episode of Restoration Renegades, Jeremy visits Jerry Blaylock of the American Drying Institute. When a home or business is flooded by a storm or unexpected plumbing disaster, most people call a Restoration expert. Jerry has trained thousands of those experts from all over the country.
Together, Jerry and Jeremy "The Adventurer" visit a house built specifically for flooding, where the best water damage restoration techs receive hands on training. Jeremy turns a hose on inside this training home, which is built to the same specs as most homes across the United States. Once the ceiling, walls, furniture, carpets, and flooring are all dripping wet and thoroughly soaked, Jerry will go to work directing his students on how to properly operate the drying and measuring equipment and techniques necessary to dry it all out and save the house.
Find Your Local "Restoration Renegades" Today