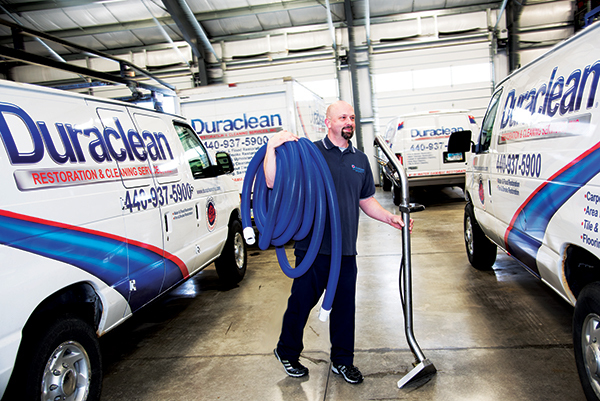 Emergency Damage Restoration Services By DuraClean, IL
Duraclean gives you so much more; More Services, More Support, More Marketing Area, and More Business Tools. Every new Duraclean Cleaning and Restoration Franchise begins with seven potential revenue producing services, all expenses paid for training at Corporate, additional training at their Marketing Area, 24/7/365 availability for support, and a Marketing Area based with the most attractive demographics and market size in the industry.
Water Damage Expert
Water Damage can strike your home or business any day or time, causing severe damage and affecting your building or home from the inside out. Damage worsens with time and prompt action by an experienced restoration company can make the difference in how extreme the damage can be. Water Damage is progressive and can cause corrosion, discoloration, warping and splitting of building materials. Excessive moisture can also lead to potential Indoor Air Quality.
Mold Remediation
Molds have the potential to cause health problems. Molds produce allergens, irritants and in some cases, potentially toxic substances. The U.S. Environmental Protection Agency (EPA) states, "inhaling or touching mold or mold spores may cause allergic reactions in some individuals." When the presence of mold is causing a health hazard, damaging property or holding up the sale of a building, you need to call a professional mold remediation company as soon as possible. Duraclean professionals are trained in all aspects of working in confined spaces.
Fire & Smoke Damage
After suffering the emotional shock of a fire, the last thing you want to think about is how will this be cleaned up? Duraclean to the rescue.
Our Professionalism
Professional Technicians. Duraclean's technicians are insured, professional and certified. Duraclean technicians carry photo identification and abide by a strict code of ethics.
---
Services Provided by DuraClean
Mold Remediation
Water Damage Restoration
---
Customer Reviews for DuraClean
(5.00 out of 5) -
2 reviews
If you have water damage in your basement you need to call Duraclean. They will take care of you. With a one week old ...
Review Source:
Highly recommend services. Fast service, attention to detail and very professional approach. Delivery of service in the ...
Review Source: