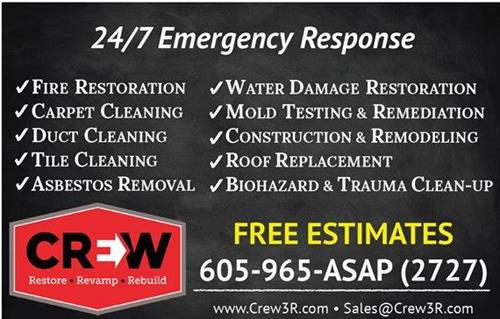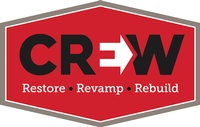 CREW Construction & Restoration
CREW Construction & Restoration
We offer 24/7 Emergency Services for any catastrophic damage that might occur to your property. We provide prompt and knowledgeable service with the equipment to handle ALL situations. We work with all insurance companies and insurance adjusters if there is a claim filed for your property.
Fire Restoration
When you experience the devastation caused by fire, you need a professional to help you piece your home back together. It doesn't matter the cause or size of the fire; your entire home can be effected. Crew understands that the damage reaches far beyond the material items in your home; you have lost a part of who you are. After the flames are snuffed out, Crew's 24-hour response team will start the process of putting your home back together. If the fire exposed your home to the elements we will take steps in securing it in order to prevent further damage.
Mold Restoration
One of the damages caused by disasters and other uncontrollable circumstances involving water, as well as high humidity and lack of proper air circulation is the growth of molds. These are unsightly spots that may appear in various parts of your home or office's interiors. As experts in home restoration, expect us to restore your property through the proper removal of mold. We implement the most effective mold remediation techniques to resolve the problem. Our team can also do air quality testing to detect mold and fix this problem as soon as possible.
Water Damage Restoration
For anyone experiencing water damage in Sioux Falls, SD, one call to Crew's 24-hour emergency response is the first step in restoring your home or business back to normal as quickly as possible. Our goal is to stop the damage from spreading because we understand time works against a structure when water attacks. Our state of the art equipment allows us to dry the area quickly and efficiently.
Why Us?
We have a team of experts and professionals who know exactly how to restore various areas of your home. We can inspect it thoroughly and make sure to fix all issues and damages caused by certain disasters, such as flood damage, water damage, fire, smoke, etc.
---
Services Provided by CREW Construction & Restoration
Mold Remediation
Water Damage Restoration
---
Customer Reviews for CREW Construction & Restoration
(5.00 out of 5) -
2 reviews
Awesome service and professional attitude. Thank you for your work!
Review Source:
A tornado dropped a tree on my house. It broke through the roof and water leaked into the kitchen. CREW came quickly and...
Review Source:
Location and Contact Information of CREW Construction & Restoration
3503 S Norton Ave

Sioux Falls, SD 57105
Areas Served by CREW Construction & Restoration