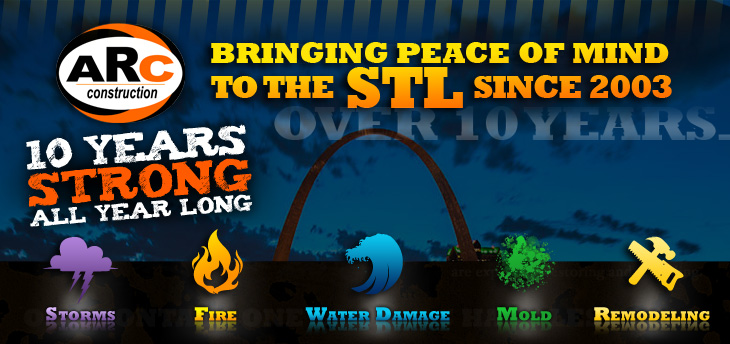 Premier Restoration Services Offering By ARC Construction in Saint Louis, MO
Founded in 2003, ARC stands for American Restoration Contractors. ARC Construction is a premier restoration and reconstruction company serving the St. Louis Metropolitan area. We specialize in fire, water, storm, and disaster damage restoration for both residential and commercial clients in the entire bi-state area. ARC Construction was established using solid principles and ethically-minded experts as the building blocks to success. We treat every customer based on these principles and create win-win solutions to help you in a timely manner. So when you are considering your next construction project, look no further and contact one of our specialists now.
Fire Restoration Experts
We understand how different building materials and contents react to fire, heat and smoke. We also know what steps to take to minimize the damage and clean and repair your property. ARC's certified mitigation specialists follow a rigorous and thorough process, ensuring that the effects of smoke and soot on your home or business are completely eliminated and your property is restored to a pre-loss condition.
Professional Water Damage Restoration
Water damage can be caused by flooding from sudden rainfall or underground water that is constantly probing your foundation looking for a way in. Regardless of the source, the result of water damage is the same. Left untreated, water damage will not only get worse, but it will also encourage the growth of mold and seriously undermine the value of your home. If you should find yourself knee-deep in water problems, ARC can help.
Dependable Mold Remediation
Mold can be found almost anywhere. It can grow on virtually any organic substance, as long as moisture and oxygen are present. There are molds that can grow on wood, paper, carpet, foods, and insulation. When excessive moisture accumulates in buildings or on building materials, mold growth will often occur, particularly if the moisture problem remains undiscovered or unaddressed.
Why Us?
The process is simple. You place a call to ARC to schedule a free, no-obligation damage assessment. We will meet your insurance adjuster, negotiate all damage repairs, and reach a fair and equitable settlement. ARC will then create a work authorization with you to complete the repairs for the settlement amount.
---
Customer Reviews for ARC Construction
I was incredibly lucky to have ARC respond to the aftermath of my house fire. Their mitigation crew was very quick to be...
Review Source:
ARC did excellent work for me. Highly recommended.
Review Source: