Warning Signs of a Burst Pipe
During extremely cold temperatures, exposed or poorly insulated pipes in basements, garages, and crawl spaces become susceptible to freezing and potentially bursting. Burst pipes can announce themselves out of nowhere and surprise you with a lot of stress. However, there are also some scenarios where you won't notice the burst until water damages start to appear. In either case, your best bet is to call Restoration Renegades for local professionals who can quickly look into the matter. Simply give us a call at 817-203-2575 for immediate expert attention.
Possible Warning Signs of a Water Pipe Burst
Burst water pipes can create a big mess and cost a lot to get repaired. You should avoid burst pipes by all means possible. Thus, we have prepared a few telltale warning signs that you can look out for before anything major happens. They include: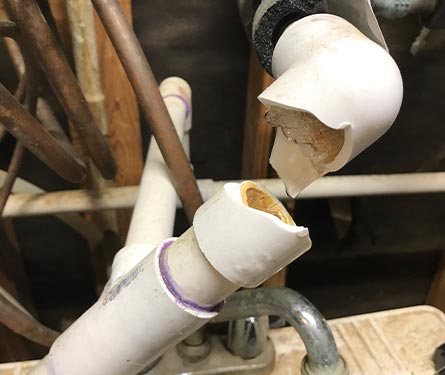 Fluctuating Water Pressure: A sudden drop in water pressure may indicate a possible burst pipe. You could check your faucets, & the flushing power of your toilet to detect abnormal changes in pressure.
Discolored Water: If the flowing water is discolored, it means outside material has somehow entered the pipes. This could also imply that a pipe has leaked or burst.
Smelly Water: Again, outside contents have made the water give off a bad odor. The result could be a leaky or burst pipe.
Unusual Noises: You might be able to hear the water dripping if you have a leaking pipe. You might also hear banging noises as water bubbles enter your water line.
Humming Sound: A humming sound may indicate high pressure in your water line. When the water pressure is too high in your plumbing system, the pipes are more likely to burst.
Water Marks: If you see water marks on the wall, there could be a leaky or burst pipe running behind it. It is best to get it inspected by a professional before something messier happens.
Abnormally High Water Bills: When you have a water bill that does not match your water usage, the reason could be a burst water pipe lying somewhere.
What to Do When You Face Water Damage
Regardless of the warnings, if you do face
water damage
in your home due to
burst pipes
, or any other reason, reach out to the specialists at Restoration Renegades. Water damage encourages mold growth & acting quickly can save you from additional costly repairs. We have the resources & experience to help you recover from water damages in your home or commercial property. Call us at
817-203-2575
or
click here
to contact your local Restoration Renegades.
Find Your Local "Restoration Renegades" Today