HVAC Discharge Line Repair by Restoration Renegades
Ever noticed a pool of water near the interior unit of your air conditioning system? While this can be a problem, it's probably easy to fix. One of the most common reasons that you might find a leak from your interior unit is because the condensate drain line is clogged with dirt, dust, algae, or mold. Fortunately, there's an easy process that you can use to clean it out, one that will not require an AC repair right away.
At Restoration Renegades, we understand that you would often prefer to do simple AC maintenance yourself. We're glad to give you some basic knowledge so that it's easier to determine if you can do it yourself or if you need a professional from our team. Call us today at 817-203-2575 to know more about our services.
Find Your Local "Restoration Renegades" Today
Steps of HVAC Discharge Line Reapir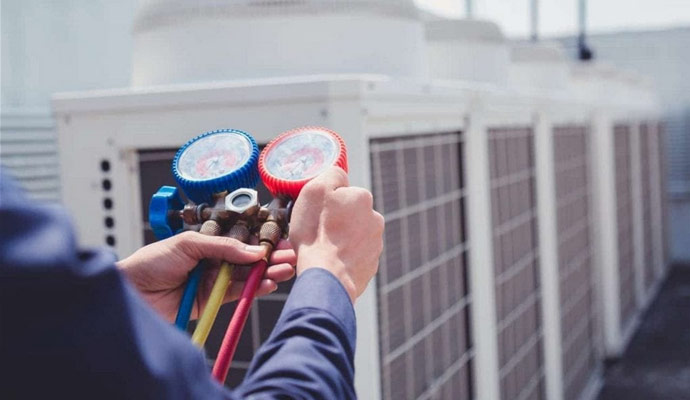 Turn Off the Power
When it comes to any AC repair or maintenance job, make sure that you turn off the power before you start for your safety. Normally, you'll turn the power off at the thermostat and at the electrical box.
Find the Drain Pan
It's useful to know the location of the drain pan because there are a few steps to AC maintenance that require knowing the location of the pan, including cleaning the condensate drain line. If the evaporator coil is on the inside of the building, you'll find a drain pan near the indoor AC unit. If the drain pan is filled with water, you probably have a clogged condensate drain. You can use a wet Shop Vac to suck up any water.
Get Rid of the Blockage
Inspect the drain to make sure that a clogged condensate line is actually the reason for the water in the pan. If this line is made of clear tubing, you should be able to easily see.
A Shop Vac is a great tool to have around when conducting quick AC repair and maintenance. One of the easiest ways to get rid of the majority of the material that is blocking water flow through the line is to use this vacuum to clean it out. The suction will clean out most of the gunk that has built up so that you can get the remaining debris easily. You can also use a small brush to loosen debris.
Clean Out the Drain
Afterward, clean the line with vinegar or hydrogen peroxide. Since some kind of growth from the dampness is likely the reason that the line is clogged, both chemicals will be able to kill the cause of the growth. Should you prefer not to use any chemicals because you don't like the smell, you can simply clean the line out with some hot water.
Contact Us for HVAC Discharge Line Repairing
Restoration Renegades has the service provider that you'll want to contact when you've got a HVAC discharge line repair. Your preferred company should have the knowledge, tools and experience to deal with the situation safely and effectively whether it's your home or workplace that's being threatened. We've got a nation-wide network of qualified companies across the United States who are ready to respond to your emergency.
First, easily locate a Restoration Renegades contractor near you using the "find a contractor" section at top of this page. Just select a service and enter your zip code. Then contact the nearest Restoration Renegades affiliated contractor from the list of contractors. Then an experienced and high-quality restoration professional can do a full assessment of your water intrusion situation and give you the best recommendation and advice possible for addressing the problem. 
There are easy ways to keep your air conditioner running smoothly. At Restoration Renegades, we have several AC maintenance contractors that are great for homeowners. We also provide services for water damage, fire damage, cleaning services, mold remediation and many more! Consult our team today to schedule an appointment with our contractors by calling at 817-203-2575 or clicking here.